Product Description
Excalibur 5 Tray Food Dehydrator - Preserve Raw Foods
For 34 years, Excalibur has been the #1 choice for home food dehydration or the small business environment.
The Excalibur dehydrator is everything you need to make a never-ending supply of wholesome & healthy dried fruits, healthy lunch box snacks, vegetables and meat dishes!
*5 Tray Excalibur Food Dehydrator shown above
This Food Dehydrator Retains Living Enzymes
The Excalibur dehydrator is reputed to be the best dehydrator for preserving the nutrient & enzyme levels of living foods. The best technique for retaining the enzymes is to set the Excalibur on 40ºC setting throughout the entire cycle. That way the food temp will never go above 48ºC even after it is dry.
Dehydration is the Healthiest, Easiest, Most Economical Way to Preserve Foods!
The Excalibur has a Unique Drying System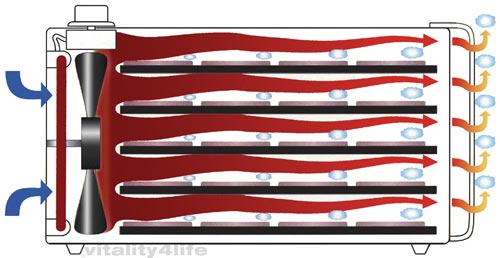 The Excalibur dehydrators feature the Parallexx™ Drying System for even drying.
Horizontal airflow provides even drying, eliminating tray re-stacking.
Drying is fast and heat is not lost as the dehydrator doesn't need to be taken apart to change the tray sequence.
This temperature controlled, fan forced, horizontal drying system is mounted in the rear of the unit. Cool air is drawn in the back, heated and distributed evenly across each tray, pushing moisture out of the front of the machine.
The Excalibur is suitable for fruits, vegetables, fish & meats, herbs & flowers and more.
Make soups, sprouted seed crackers, stews, beef jerky, fruit rolls, yogurt, dry flower bouquets, dough & clay art.
Dry large or small items, liquids or solids. It's the perfect choice for those interested in gardening, hunting, fishing, outdoor sports, camping & trekking, crafts, health, nutrition, special dietary needs, raw & living foods, sustainable living and more.
The Excalibur is the ONLY dehydrator that dries foods enough to be powdered!
We're concerned about preservatives and pesticides in canned foods and fresh vegetables. We raise a lot of things in our own garden and dry them in my Excalibur. We don't use pesticides so we don't have to worry about it. I want to live a long time so I try to eat nutritious foods. It's easier if they're dried. —
Carol Gilwater, North Highlands, CA
The Excalibur Dehydrator has Exceptional Performance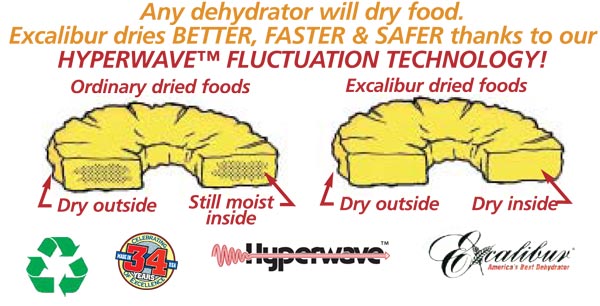 Excalibur dries BETTER, FASTER & SAFER thanks to our Hyperwave™ Fluctuation Technology
Ordinary dehydrators produce constant, unchanging heat causing "case hardening," a dry surface with moisture trapped inside — a perfect environment for yeast, mold, and bacteria growth.
Excalibur's Adjustable Thermostat lets you take advantage of Hyperwave Fluctuation (changing heat through the drying cycle) for faster, better, safer dried foods.
As the temperature fluctuates up the surface moisture evaporates. Then as the temperature fluctuates down the inner moisture moves to the drier surface. The food temperature stays LOW enough to keep the enzymes active, and the air temperature gets high enough to dry food fast, overcoming yeast, mold, and bacteria growth and spoilage.
Excalibur is the #1 choice of homeowners, small businesses, universities and restaurants worldwide
"A walk in the park" compared to canning! Here in Vermont, apples are plentiful and inexpensive in the fall. Although I 'put up' apple sauce, canning is labor-intensive. Dehydrating apples, by comparison, is sheer joy. We use dried apples for snacking, baking pies, and cooking. I dry home-grown herbs, too. Dehydrated foods are easy to store in plastic bags and the whole process is a 'walk in the park' compared to canning. I love it!
Nancy Williams, VT
The World's Best Quality Most Versatile Dehydrator Ever!
The Excalibur is the best-selling dehydrator in the world because of its physical design, its engineering quality, its broad versatility, and its reliable performance.
With the adjustable Hyperwave™ thermostat and removable trays, you can dry just about anything!

The adjustable thermostat lets you fine tune to the exact temperature you need
Removable trays let you customize drying space for small or large items
eg; 1.25 litre yogurt which is impossible in a stackable dehydrator
Lots of drying space, so you handle large volumes up to 10 times faster
The Excalibur Dehydrator is Environmentally Friendly
Excalibur products are designed to be environmentally conscious. The Excalibur dehydrators are designed to run on lower wattage without compromising the quality of dried foods. The dehydrators' case, door, trays, and knobs are made from medical grade recycled plastics.
The Excalibur Dehydrator Design Superiority
Electronics are back-mounted so spills won't bake on
The adjustable Hyperwave™ thermostat allows precision drying
Units are available with a 26 hour timer for added versatility
Removable, dishwasher-safe trays are easy to load; leave some out for drying bulky items
Economical; just 6¢-7¢ of electricity an hour
The Excalibur Dehydrator Quality Materials
No harmful fumes like low-quality styrene dehydrators
The polycarbonate is a natural heat insulator, better than single-wall stainless steel
Virtually indestructible - trays won't crack or break
Compare Food Dehydrators
Specifications
| | |
| --- | --- |
| Shipping Size | 9 Tray: L 50 cm x H 39 cm x D 56 cm / 5 Tray: L 50 cm x H 28 cm x D 56 cm |
| Shipping Weight | 9 Tray: 10.4 kg / Actual Weight: 8.8 kg 5 Tray: 7.38 kg |
| Capacity | 9 Tray: 1.39 msq (15 fsq) Drying Area / 5 Tray: 0.743msq (8 fsq) Drying Area |
| Model # | 3000 Series Model # 9 Tray: 4526T / 5 Tray: 4926T / Available in Black or White with black trays |
| Warranty | 5 Years |
| Features | Adjustable Thermostat, 26 Hour Timer & Paraflexx Drying System |
| Dimensions | 9 Tray: L 42 cm x H 32 cm x D 50 cm 5 Tray: L 42 cm x H 21 cm x D 50 cm |
| Compatible Foods | Fruits, vegetables, fish & meats, herbs & flowers and more. Make soups, sprouted seed crackers, stews, beef jerky, fruit rolls, yogurt, dry flower bouquets, dough & clay art. |
| Wattage | 9 Tray: 600W / 5 Tray: 400W |
| Plug / Power | AU Standard Plug / 230V / 50 Hz |
The next step is simple click on the buy now / add to cart button and you could be enjoying your way towards a healthier life today.
Specifications
| | |
| --- | --- |
| Input Voltage | 220 - 240 V |
Product Reviews
You may also be interested in the following product(s)
| | | |
| --- | --- | --- |
| | | |